Duncan MacDonald
Jakarta 20 June 2019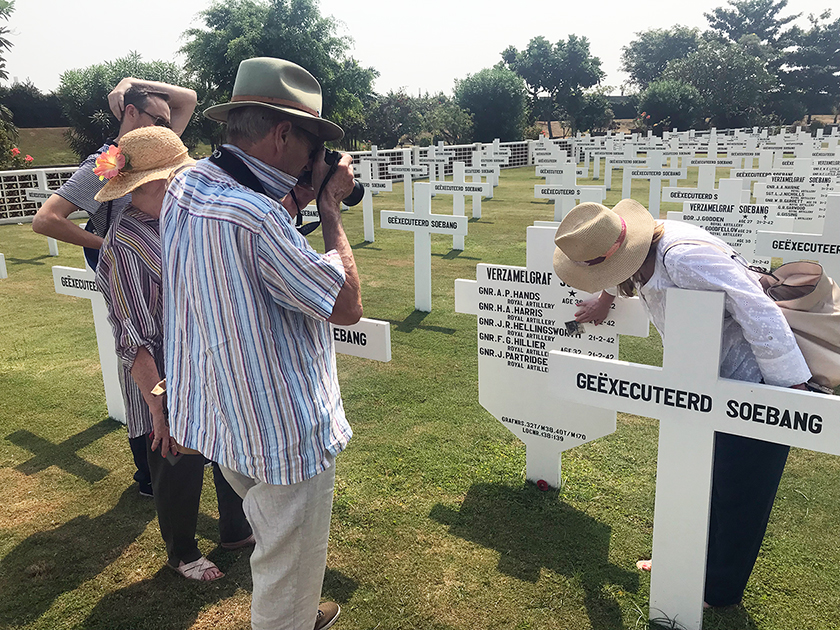 Ereveld Ancol Hellingsworth family
Stuart, Christine, Peter, Clare, photographing Peter's father's grave.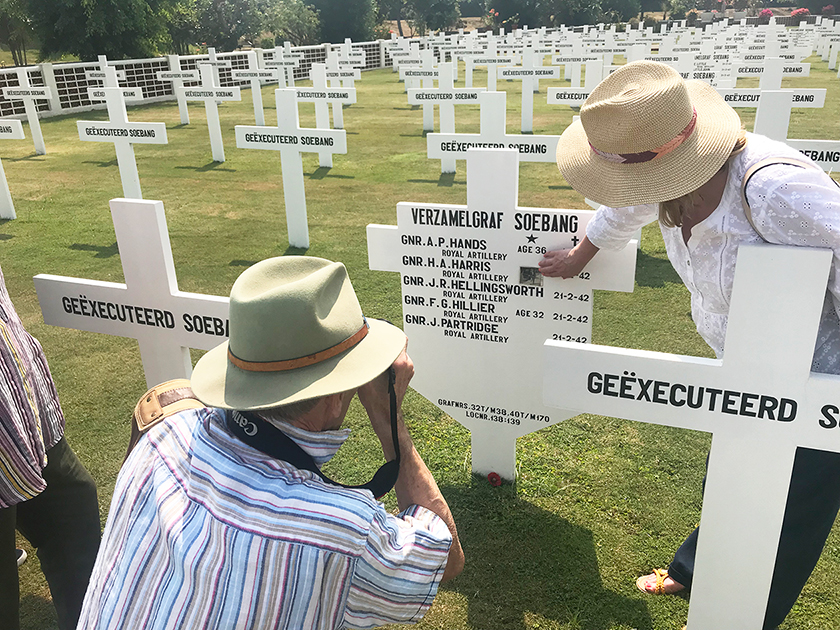 Ereveld Ancol
Peter Hellingsworth photographing his father's grave.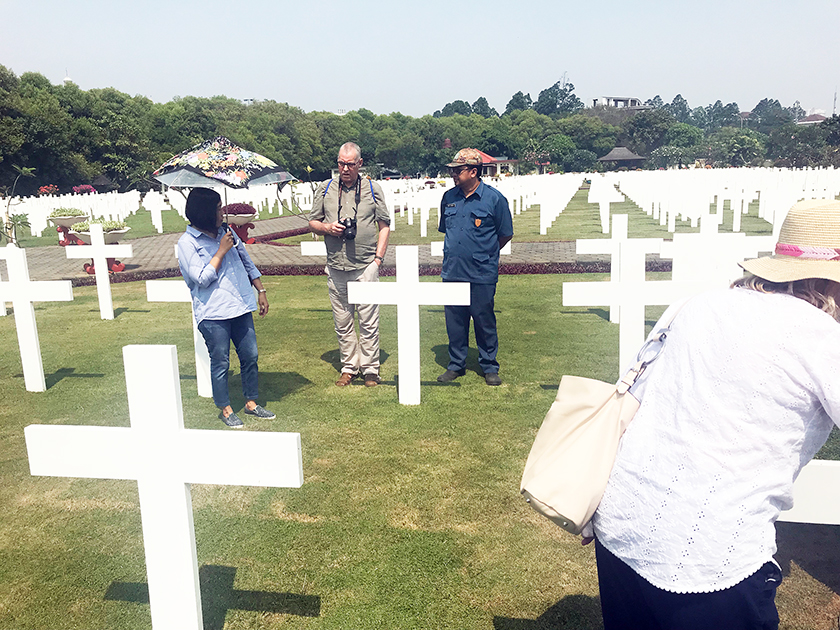 Shinta, Bruce McElroy, Dicky ~ Indonesian Ereveld Supervisor.
The Netherlands War Graves Foundation excelently maintains this cemetery, along with six others in Java. Over 24,000 victims
of the struggle in the Netherlands East-Indies - both civilian and military - are buried in these War Cemeteries.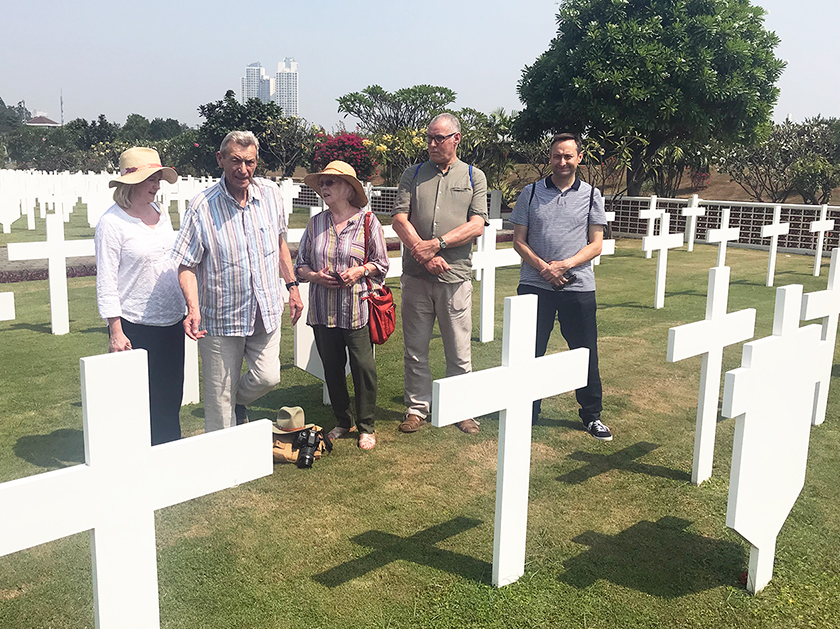 Claire, Peter, Christine, Bruce, Stuart
Daughter Claire is married to Bruce McElroy.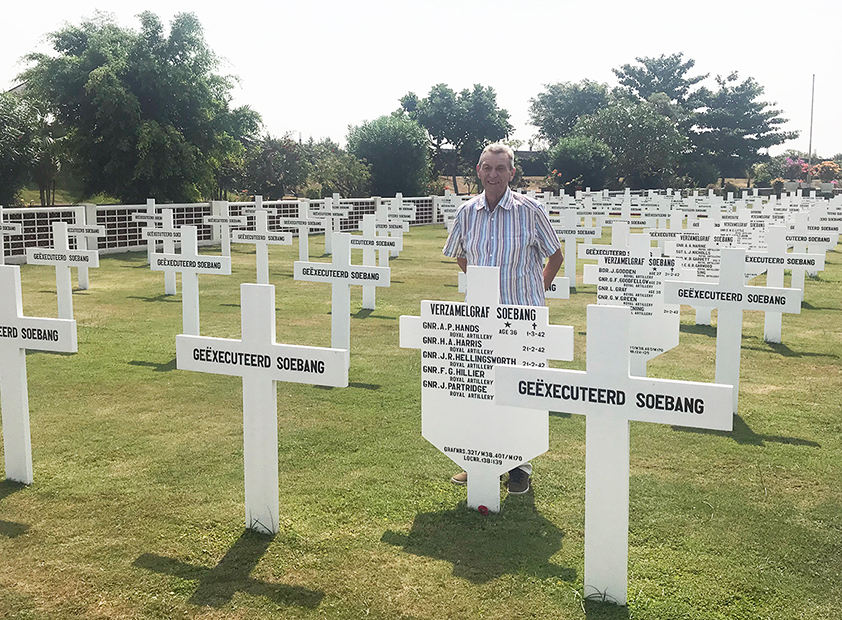 Peter Hellingsworth standing behind his father's grave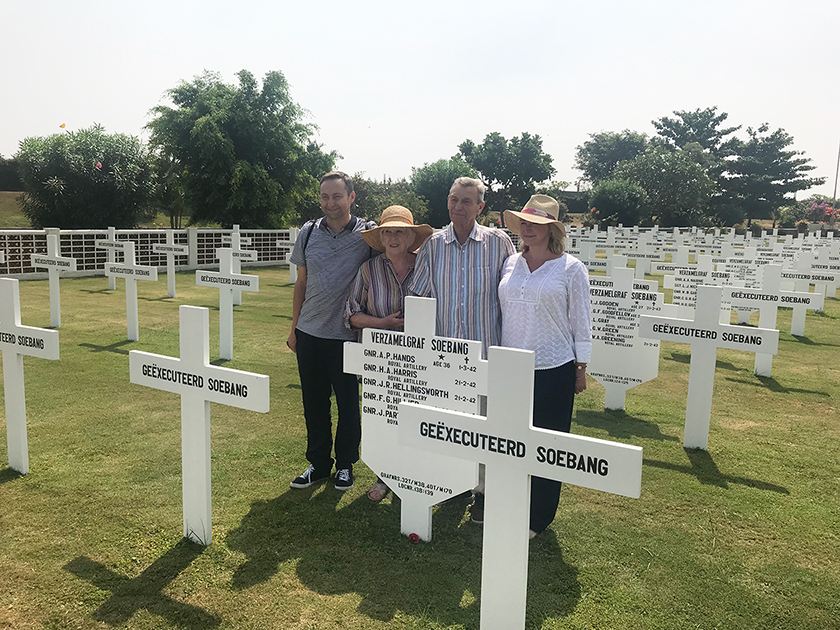 Stuart Christine Peter Claire Hellingsworth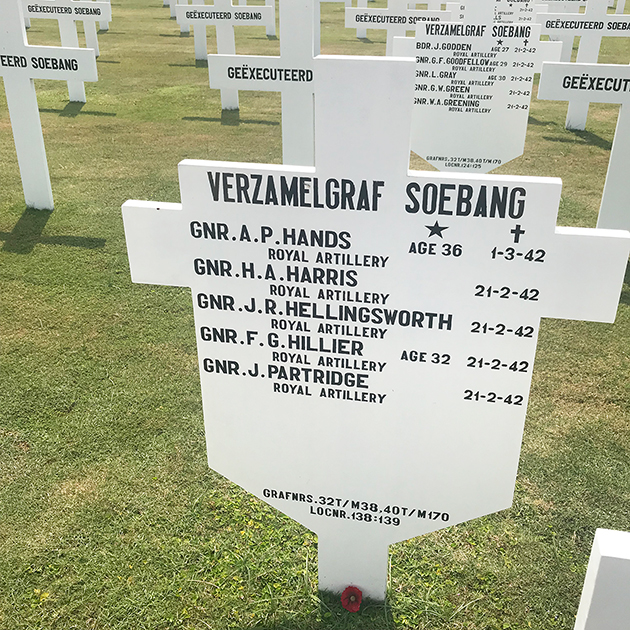 GNR J.R. Hellingsworth grave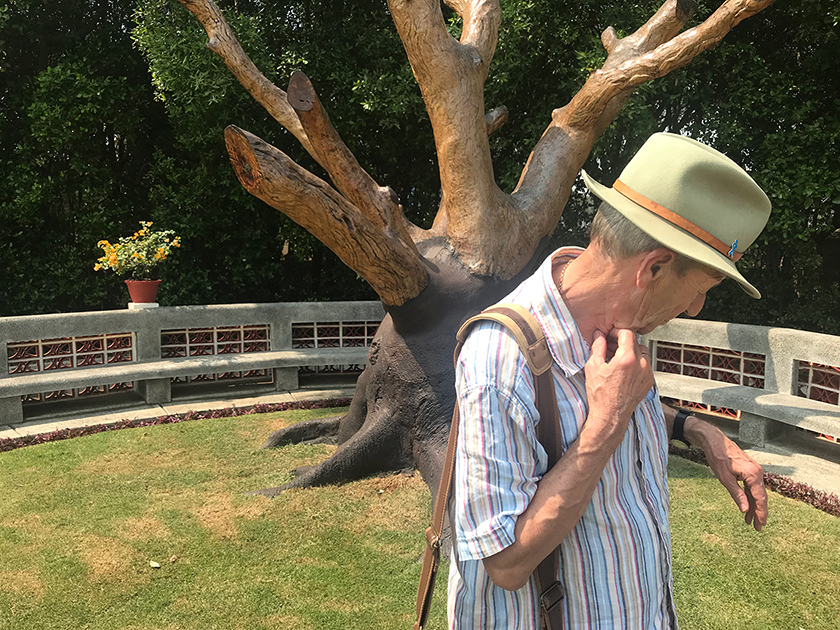 Peter Hellingsworth in front of the Execution Tree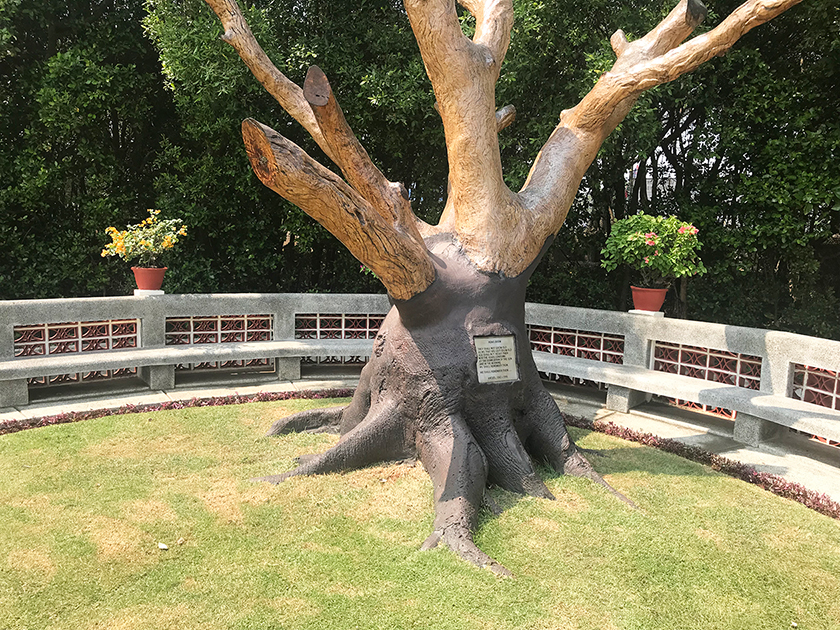 Execution Tree ~ The Japanese executed 200 people under this tree.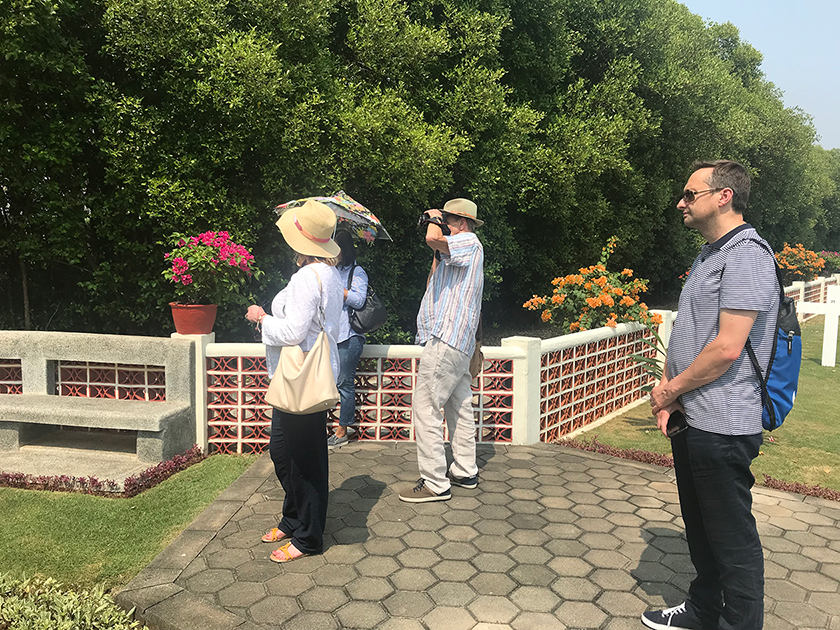 Claire Shinta Peter Stuart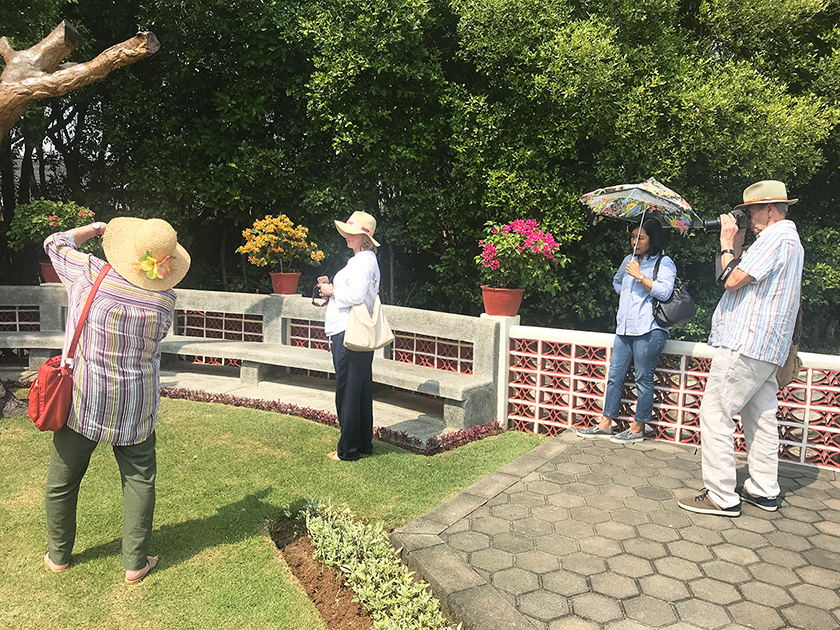 Christine Claire Shinta Peter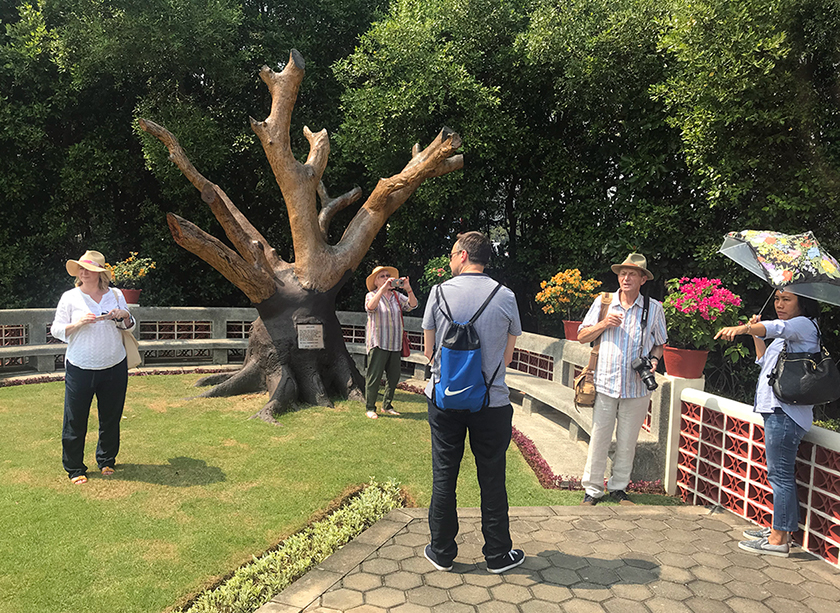 Claire Christine Stuart Peter Shinta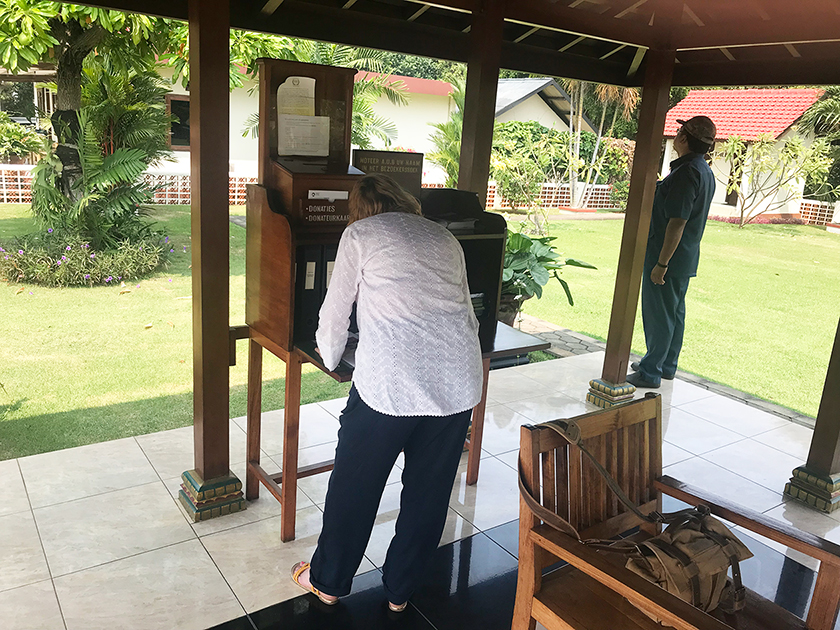 Claire signing Visitors Book ~ Indonesian Supervisor Dicky
The Visitors Book is kept in the same location as the Register of Graves, enabling the easy location of GNR J.R. Hellingsworth final resting place.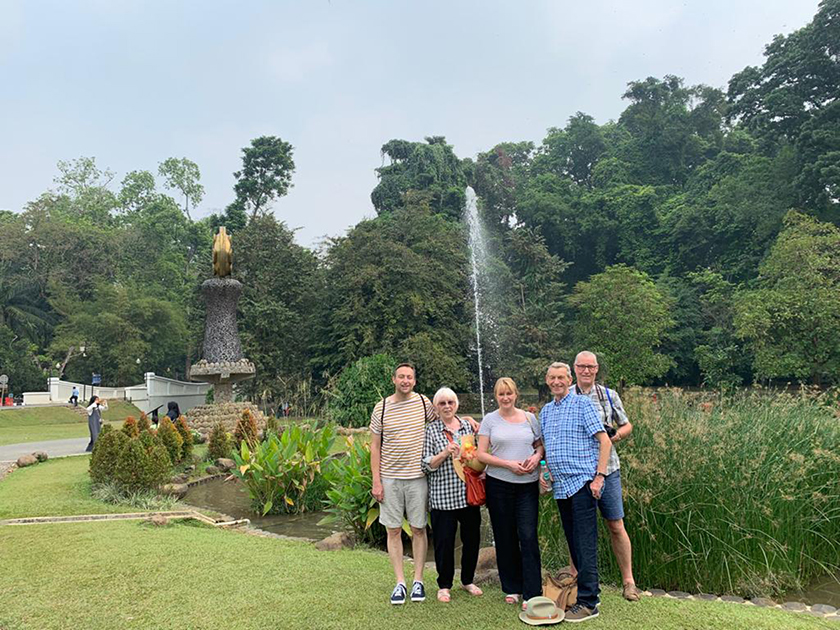 21 June 2019 Bogor Botanical Gardens
Stuart Christine Claire Peter Bruce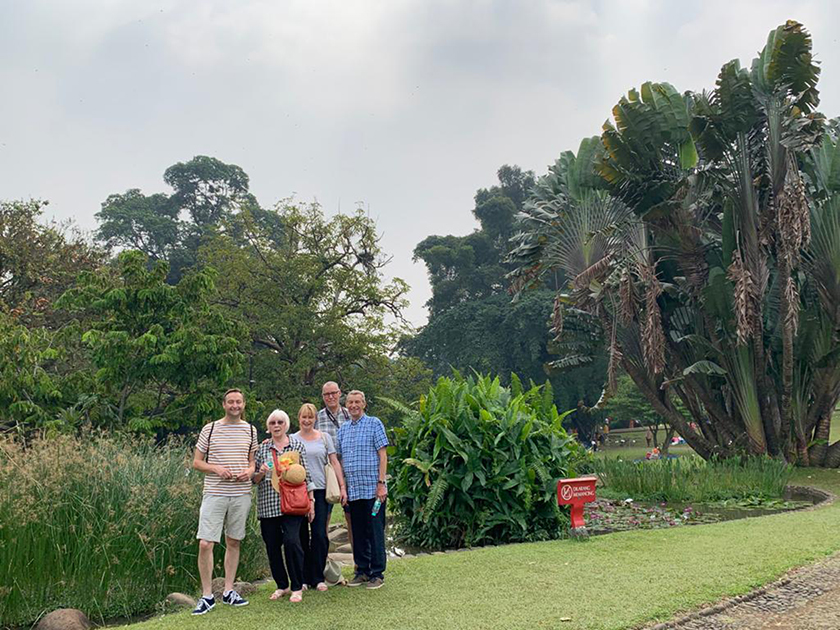 Stuart Christine Claire Bruce Peter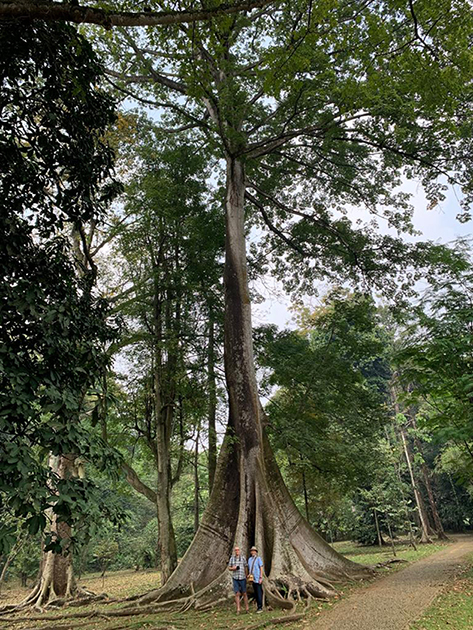 Bruce McElroy Peter Hellingsworth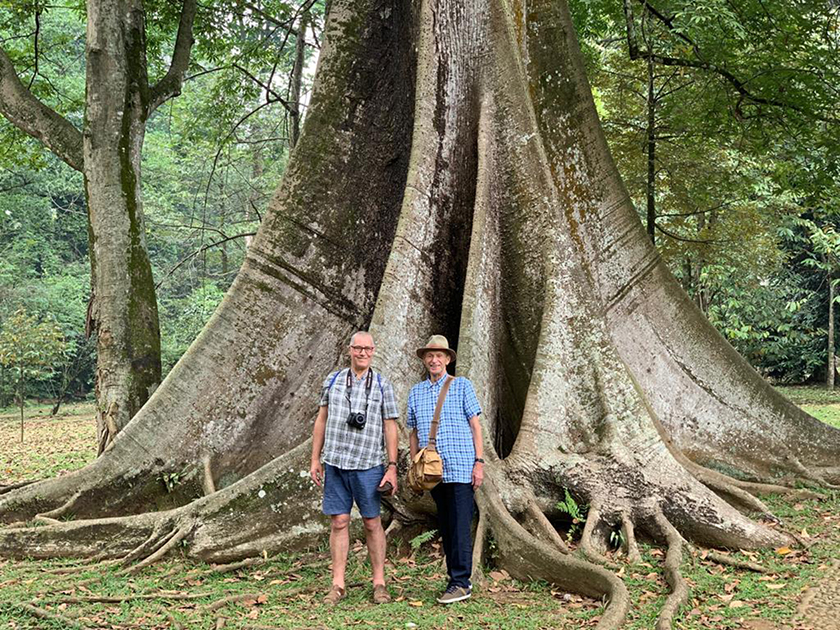 Bruce Peter in front of Kapok tree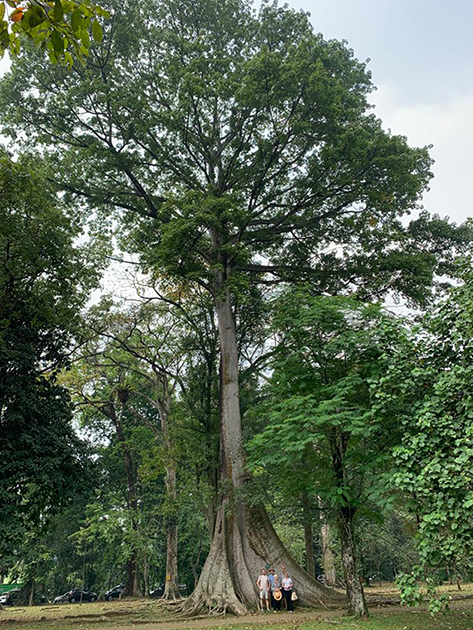 Another Kapok tree
Stuart Peter Christine Bruce Claire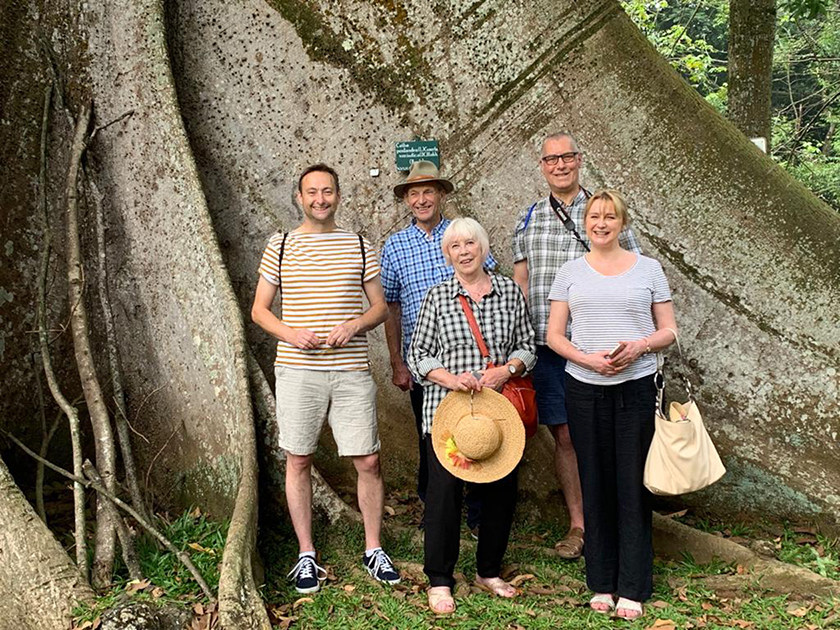 Stuart Peter Christine Bruce Claire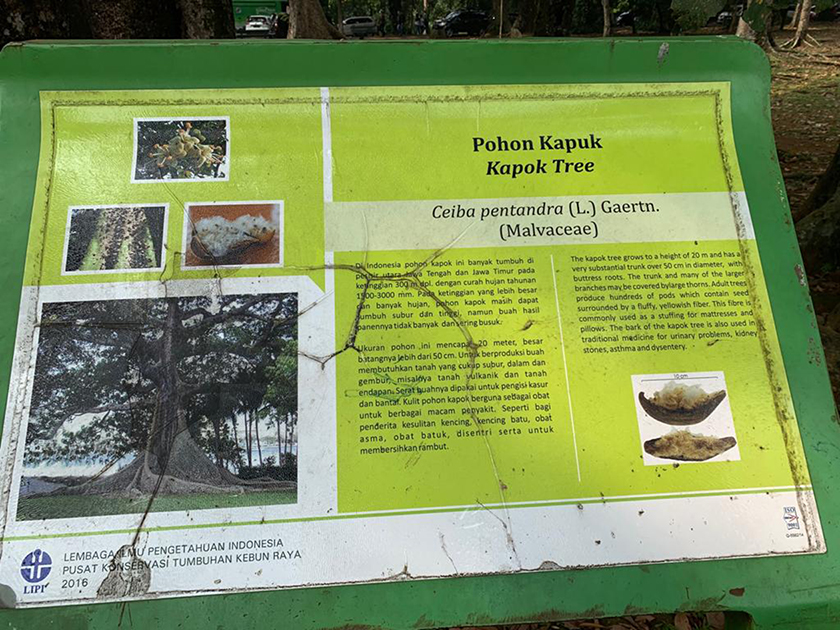 Kapok Tree - The fibre is commonly used as stuffing for pillows and mattresses. The bark is also used in traditional medicine for urinary problems, kidney stones, asthma and dysentery.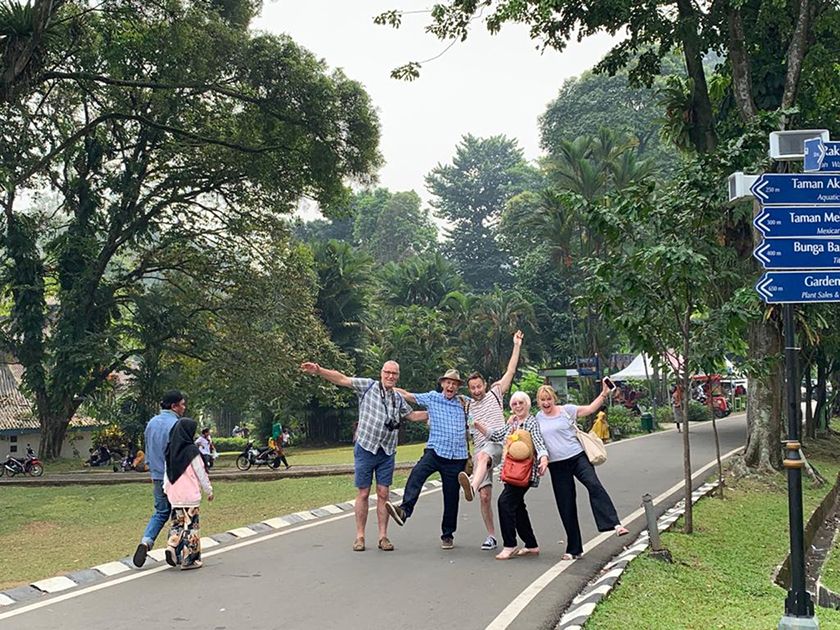 Bogor Botanical Gardens
Bruce Peter Stuart Christine Claire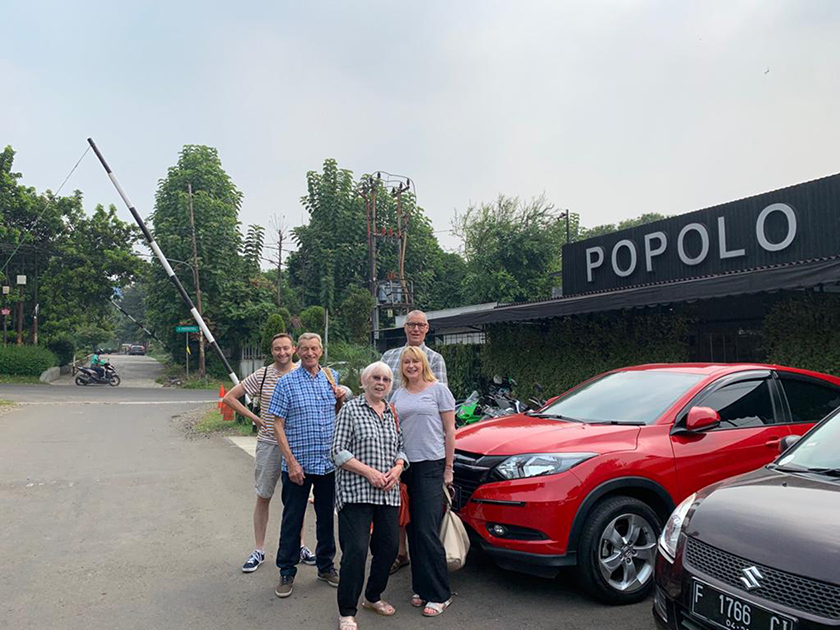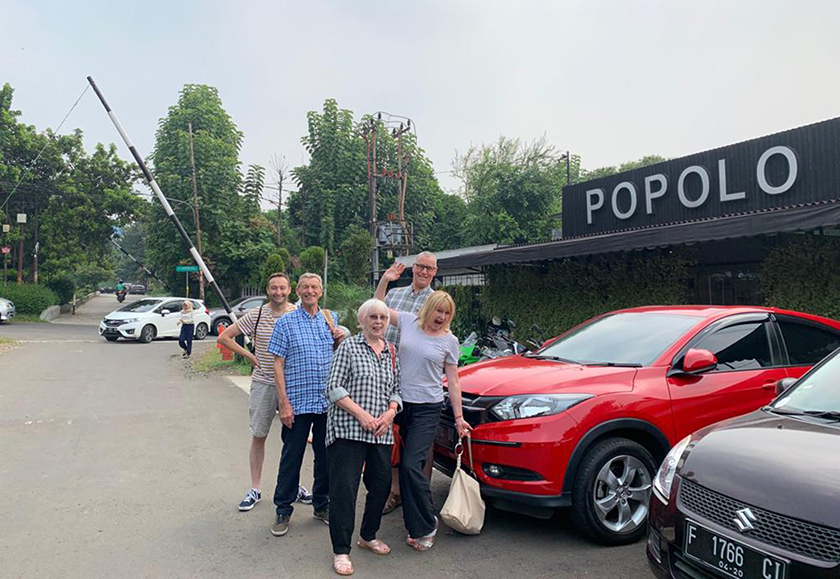 Bogor Coffee Shop
Stuart Peter Christine Claire Bruce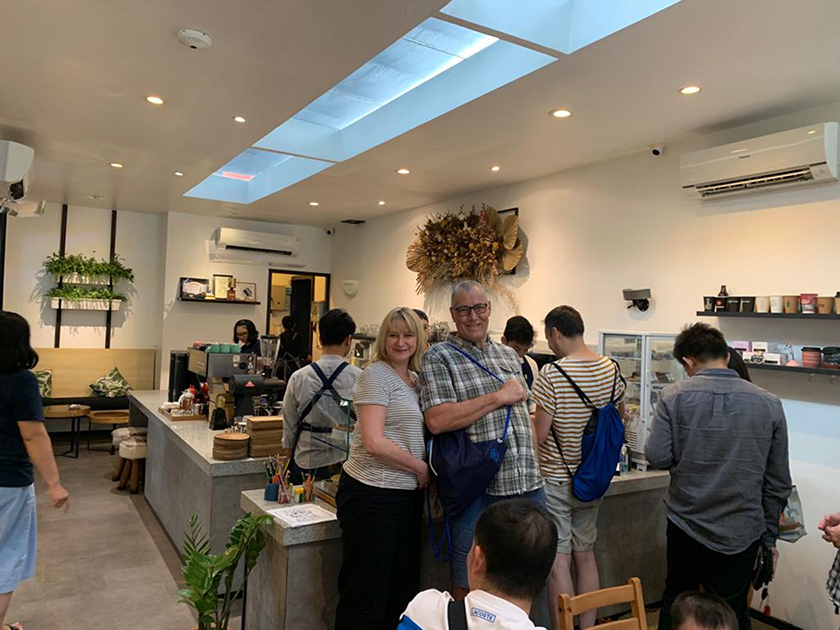 Bogor Coffee Shop
Claire Bruce Stuart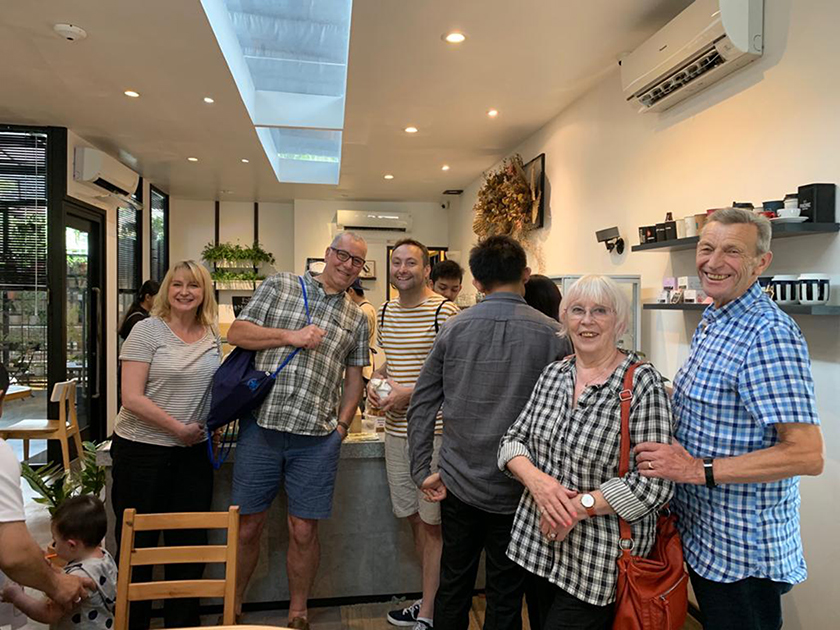 Bogor Coffee Shop
Claire Bruce Stuart Christine Peter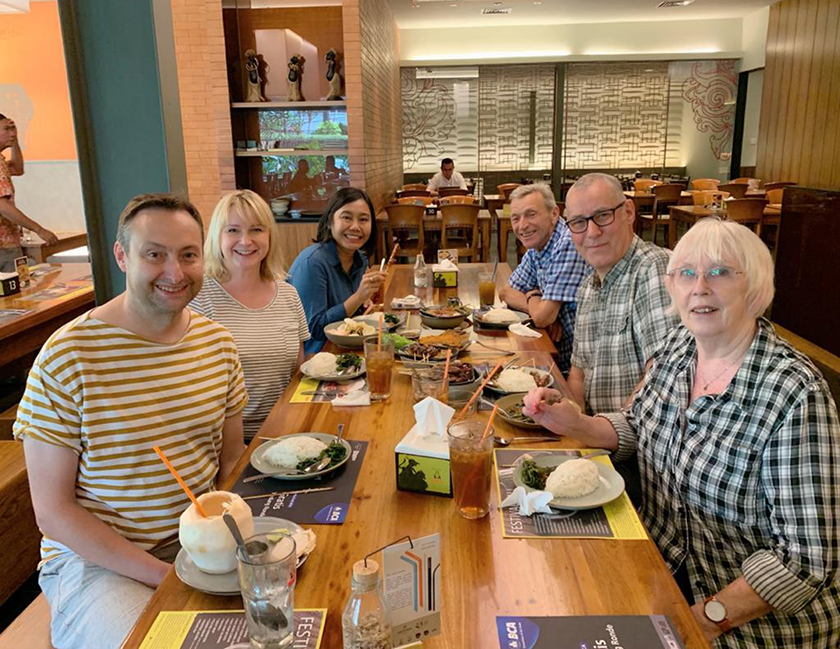 Jakarta Senayan Satay House Restaurant
Stuart Claire Shinta Peter Bruce Christine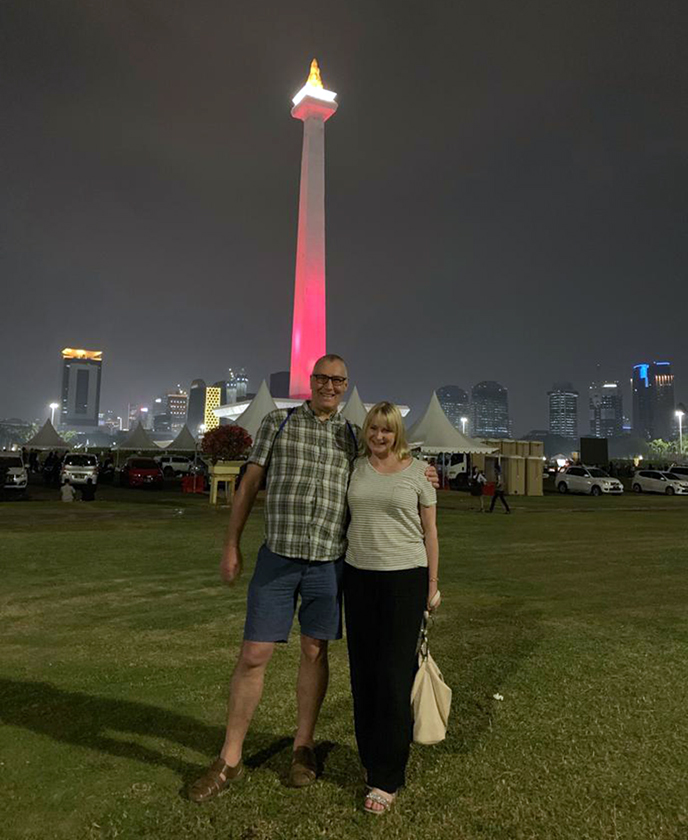 Bruce Claire McElroy in front of Monas
Monas : (Indonesian - 'Monumen Nasional' - abbreviated) located in Merdeka Square, Central Jakarta, is a 132m (433 ft) monument, built to commemorate the struggle for Indonesian Independence (1945 - 1949).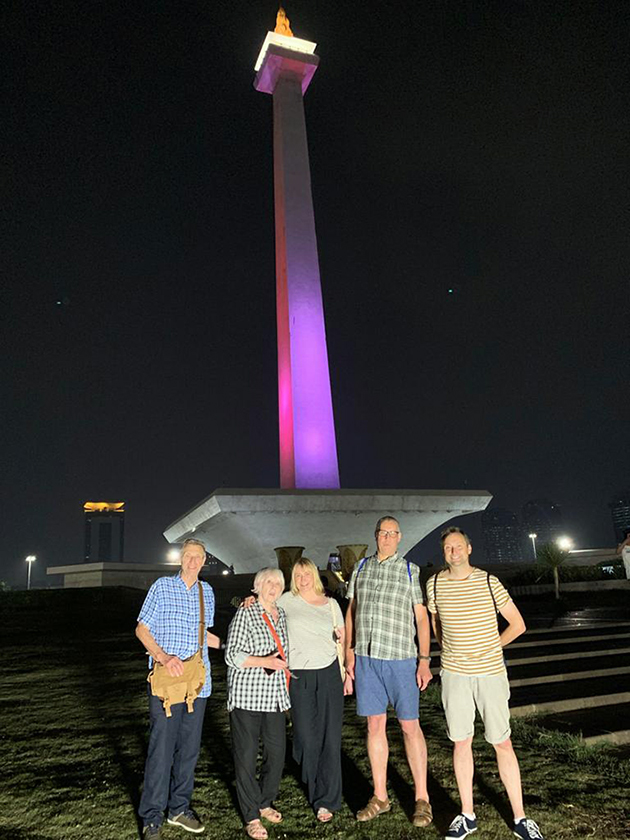 Peter Christine Claire Bruce Stuart
Monas construction began in 1961 under the direction of President Sukarno. It was opened to the public in 1975.
The apex is a flame covered in gold foil.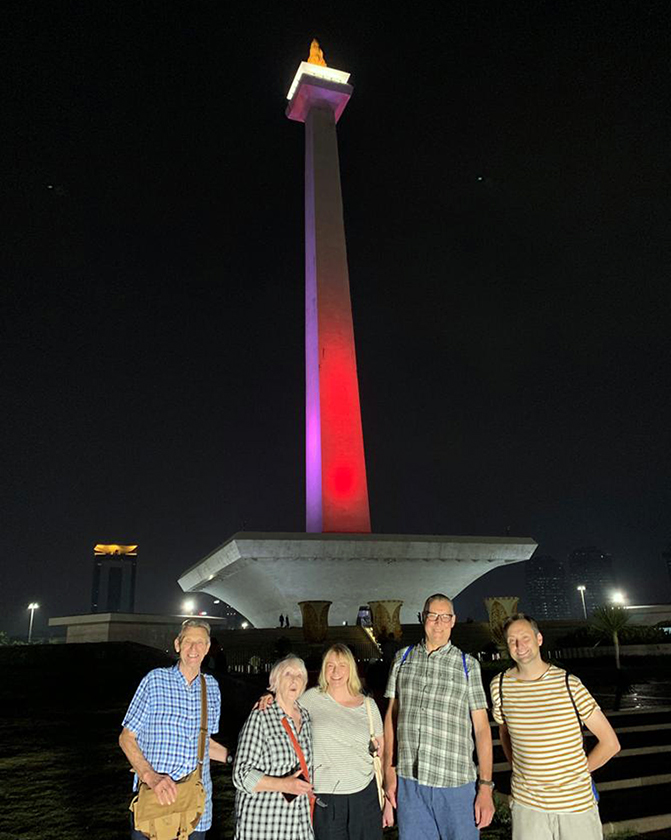 Peter Christine Claire Bruce Stuart
Monas is topped by a 14.5 ton Flame of Independence. The bronze flame structure is 14 meters high and 6 meters in diameter.
During the 50th anniversary of Indonesian Independence in 1955, the gold foil was recoated and increased from 35kg to 50kg.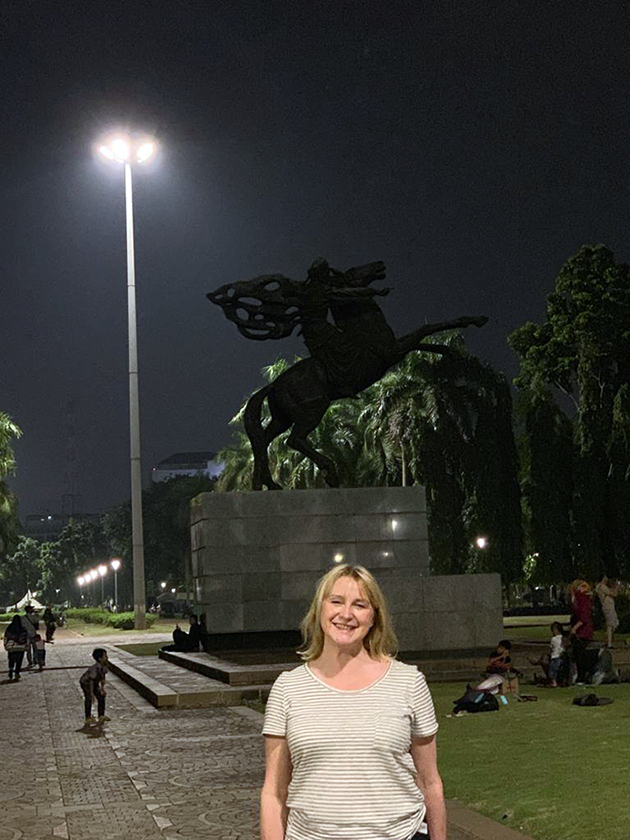 Clair in front of Diponegoro statue
Prince Diponegoro (1785-1855) led a popular uprising against the Dutch between 1825 and 1830.
He is regarded as a national hero, a pious Muslim and a Javanese mystic. He was the grandson of Yogyakarta's first Sultan - but ended his life exiled in a squalid, hot, prison at Fort Rotterdam in Makassar (eastern Sulawesi).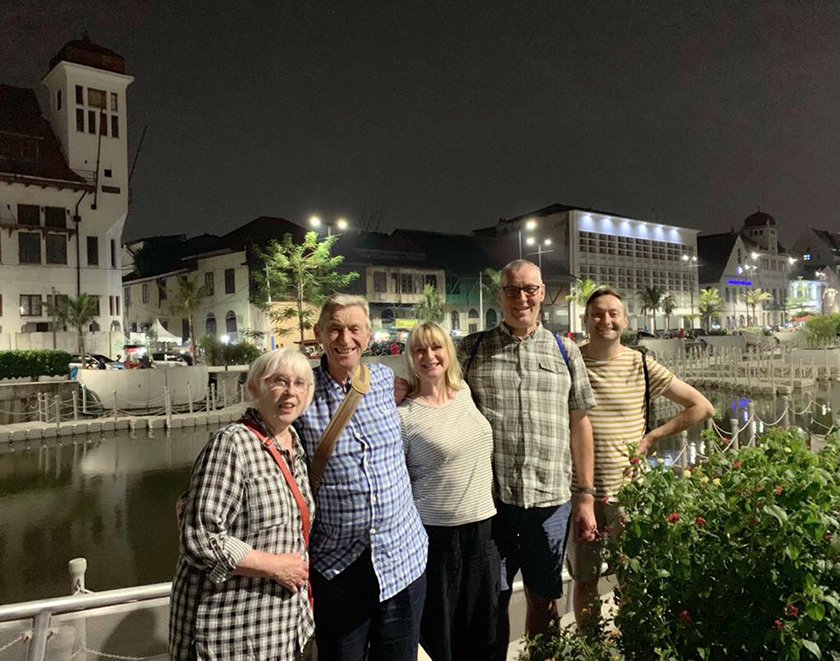 Christine Peter Claire Bruce Stuart
Kali Besa - (the Grand River) : In the 17th century ships sailed along a canal to Kali Besar where unloading and ship repairs were done in a dockyard. However, due to deposits of sand in the estury and increased size of ships this was eventually discontinued.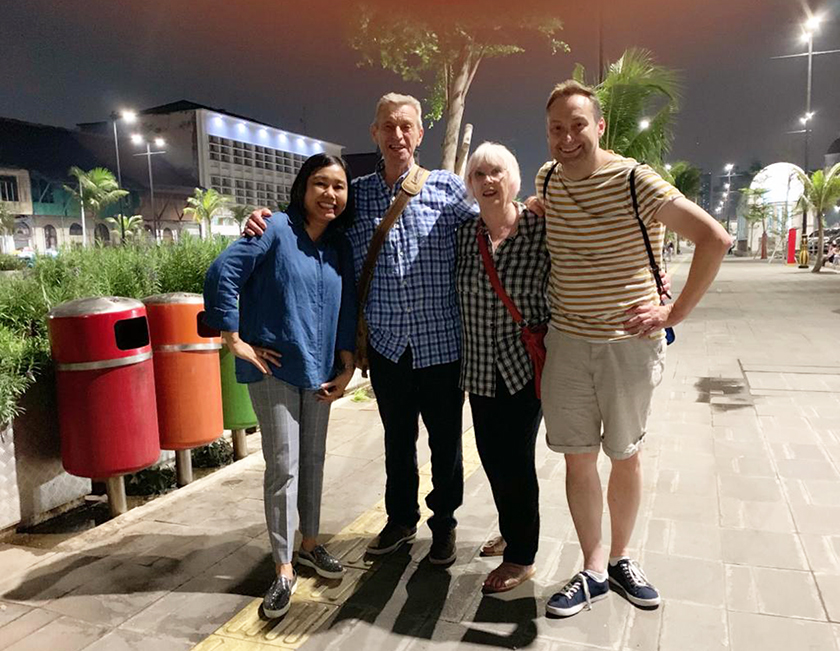 Shinta Peter Christine Stuart
In the 19th century numberous buildings located in the VOC (Dutch East India Company) area of Kali Besar, are of European architecture and many tourists are attracted to this historic neighbourhood.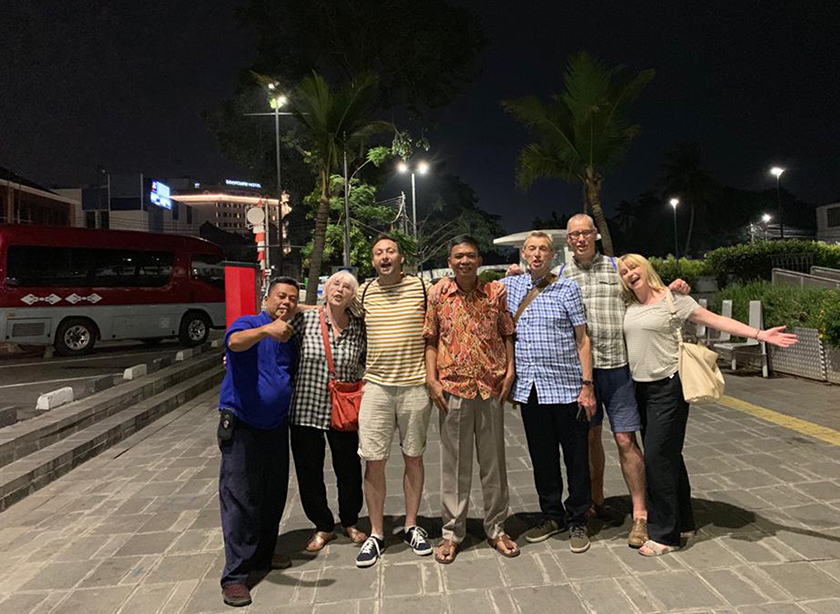 Blue Bird bus driver Christine Stuart Muhidin (Shinta's driver) Peter Bruce Claire
Kali Besar was seen as an elite residential area in the 18th century and later transformed to become the central area of offices for international trading.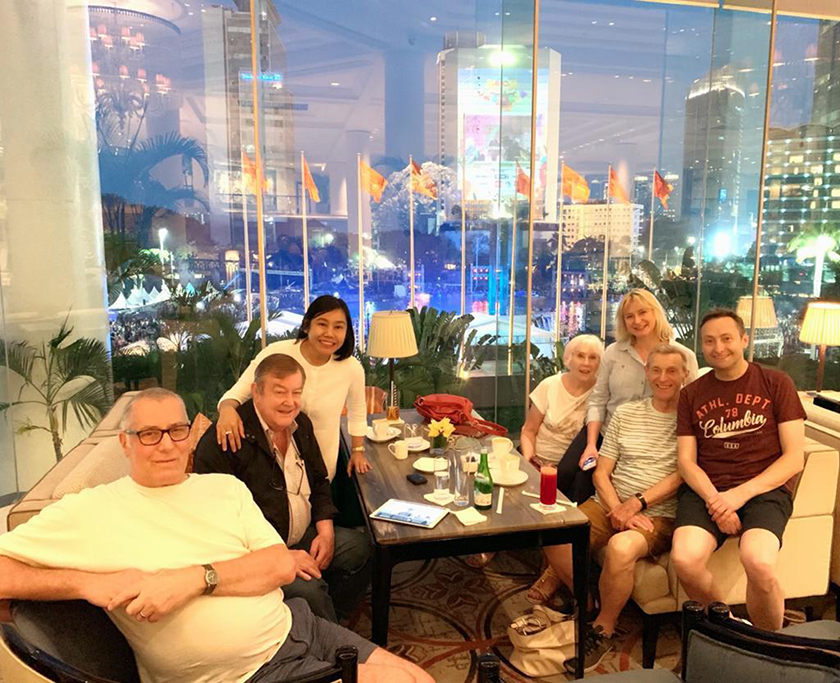 22 June 2019 : Bruce Duncan Shinta Christine Claire Peter Stuart
Fountain Lounge, Grand Hyatt Hotel - background: celebrations for Jakarta's 492nd Birthday.
Jakarta Birthday: The earliest mention of what is now Jakarta, is in the 12th century, when referred to as Sunda Kalupa, because of its export of coconut, or kalupa. It was the principal harbour for the Javanese Hindu kingdom of Sunda, the capital of which, Pakuan, was located 60km upstream at what is now Bogor (named after the now extinct palm - Bagor). However, an Islamic warrior from the Sultanate of Demak (central north coast of Java) named Fatahilla , conquered Hindu Sunda Kalupa on 22 June 1527 - the day Jakarta now celebrates as its Birthday.
He renamed the port Jayakarta which means 'glorious victory' in Sanskrit.

In 1612 the Dutch took sole possession of Jayakarta and renamed it Batavia - in honour of a Roman era Germanic tribe, called the Batavi , ancestors of the Dutch people.
One decree the Japanese made when they invaded Java in 1942 turned out to be beneficial: Batavia was renamed Jakarta , a version of the old Jayakarta .



Home